I have been imaging with SGP for more than five years using a CCD camera (KAF-8300 chip) but I recently bought a QHY163M camera to get some experience with CMOS technology.
One of the first tasks was to take some bias and dark calibration frames and I immediately noticed something I don't understand. My 300 second dark frames have a lower, average ADU value than the one second bias frames. I know that CMOS has low dark current, so I would not have been surprised to see dark frames with only a small ADU increase over bias frames – but not to have less!
The QHY163M manual says not to shoot bias frames at 0 exposure time, so I simply selected one second. Here is a screen shot of the "Image Statistics" window with the bias frame showing 314 ADU averages: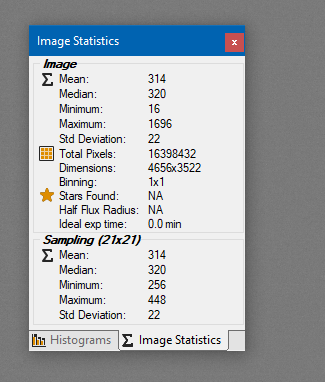 And here is the dark frame showing 278 ADU averages: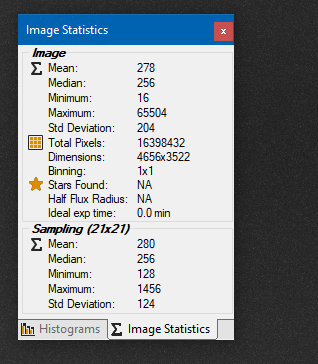 I repeated this test multiple times with the same results. All frames were shot at 1x1 binning and used the same temperature (-10C) and the same gain and offset values ( g=120, o=20).
So, the question is – Is anyone else seeing similar results with their CMOS calibration frames – with the same camera or other CMOS cameras?
Charlie