This is the 3 night where suddenly SGP cannot download Images from the camera.
The camera works properly and any other software can acccess the ASI camera without a problem. I have reported this issue before and I really need a fix.
In the Equipment Manager the connect button for the camera is grey.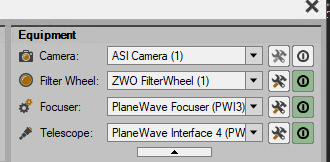 Dietmar
Link to Logs
Useful Info
OS: Microsoft Windows 11 Pro
Ver: 4.2.0.1052 (64-bit)
.NET: 4.8
ASCOM: 6.6.1.3557