Hello All,
Probably this has been discussed before; however, I couldn't find the answer that I was looking, so here I come:
I am using the Framing and Mosaic Wizard to create my sequences (1x1 tiles for now). After selecting the target, I rotate the image to fit it in the best way possible inside my camera field of view. Now, because I don't have a rotator, I am not sure if I should select the option "Rotate or validate camera angle" before clicking "OK"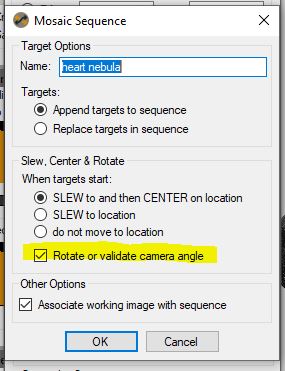 I have watched some tutorials in YouTube and some people says that this option shouldn't be selected because it would generate an error. However, the way I understand this is that SGP will ask me to validate the orientation of the image during the plate solve process by using the "Manual Rotator"
On the other hand, I assume I shouldn't select the option "Rotate Camera" in the Target Setting even if I am planning to use the "Manual Rotator" option in the equipment profile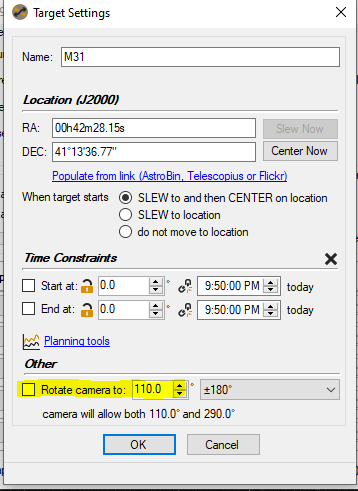 Could somebody please confirm if my thinking is correct?
Thanks and stay safe and healthy!
Diego