SGPro 4.3 is coming along nicely. Unfortunately the official release of 4.3 is wholly dependent on the stability of AutoFlats. This takes time… and so whilst waiting, I implemented a (not perfect, but better) version of the focuser's initial position system. So, here is what SGPro 4.3.0.1139 (and higher) has:
There was an old option buried deep within the secondary focus control panel window that allowed you to enable the old initial positioning. This is gone now, and in its place, the new option now appears on the primary focus control panel tab: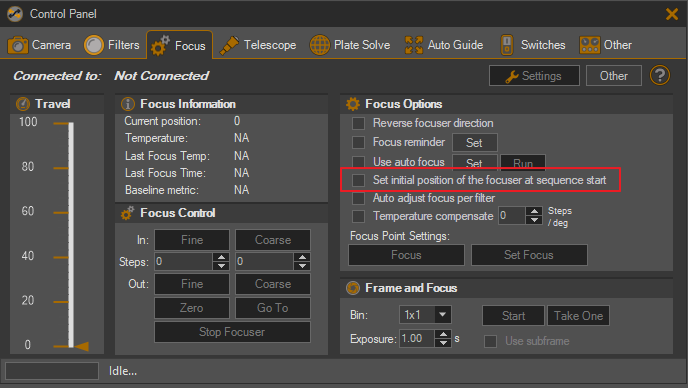 In terms of old sequences and profiles, this new option will be enabled if you had the old absolute positioning option enabled.
How it works…
Sequence starts
SGPro attempts to find the last known (now recorded in sequence) focus position for the last sequence start.
If it finds one within 15 days AND within +/- 1.5 hours of the last starting time (3 hr range), use it as the current starting position
If starting filters are different, optionally apply focuser offset between the 2 filters
If none are found, default to the filter's absolute position
If sequence has temperature compensation enabled, apply it
Run initial auto focus
Note: It likely won't stay this way, but in order to use this now, you need to also have the "Auto Focus at sequence start option" enabled.
It may be possible to ease the time proximity requirements with use of temperature compensation, but I think that most temp comp applied over a large temperature delta is unlikely to succeed anyhow.
Open to ideas on tweaks here, but if they are too complex in nature will need to wait until "not 4.3" or we'll never release. This version was allowed into 4.3 because it is not super-complex and is unlikely to hold up the release.