Alright… as promised here is the initial set of instructions for the Focus Lock beta (this will all be baked into the SGPro help when it's released).
What is FocusLock?
It is awesome. In my opinion, I think it will be the next new hotness for auto focus routines. It is an application that runs alongside SGPro and works to ensure that you are constantly in focus during the sequence.
---
Why would you use FocusLock?
There are lots of advantages to using FocusLock, here are the most important:
Avoid using the SGPro auto focus routine during sequences (this might save you 15-30 minutes in a night)
Always be exactly in focus… avoid small focus errors that can creep in between your auto focus intervals
Allow SGPro to automatically restart a given frame if FocusLock reports that focus was lost during integration
---
What do you need to use FocusLock?
The FocusLock application (distributed by Optec).
Either a
Lacerta kit (significantly cheaper).
A guide camera (a starlight xpress camera if using a Lacerta kit)
PHD2
SGPro 3.0 or higher
---
How does SGPro interact with FocusLock?
SGPro creates a new "docking module" (the small windows that dock on the left and right sides) for FocusLock. In general, it looks like this: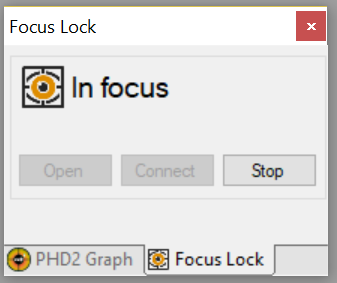 When in use the main status text is designed to tell you if you are in or out of focus (or tell you why FocusLock is not running):
Not running: The FocusLock app is not running. Important! Do not start FocusLock manually… you must let SGPro start it for you.
Not connected: FocusLock is running, but none of FocusLock's gear is connected
Lock not available: FL gear is connected, but FL does not have a "lock" available to use. A lock is required before FL is able to maintain focus.
Lock available: FL has a lock available, but it is not being used. Click the "Start" button or start the lock in the FL application.
Out of focus: Outside of the CFZ
In focus: Where you want to be
Icon meaning (from left to right):
Lock available (but not in use)
A condition exists that will not allow a lock to become available (FL not running, no gear connected, etc)
FocusLock using the lock and attempting to maintain focus (this icon does not indicate focus!)

SGPro extends a certain amount of information and control from the FocusLock application (start FL, connect gear, start lock, stop lock). The intent here, is to prevent you from having to keep the FL application visible and on top of your SGPro windows during normal sequence operation.
Beyond this, SGPro does have a few neat sequence integration features:
Never start a frame until FocusLock reports it has focus
Optionally restart a frame if FL reports it has lost focus during integration
Optionally prevent FL from moving the focuser while the camera is integrating
Options can be found by right clicking the docking module's title bar (or by left clicking the small down arrow to the left of the "x"):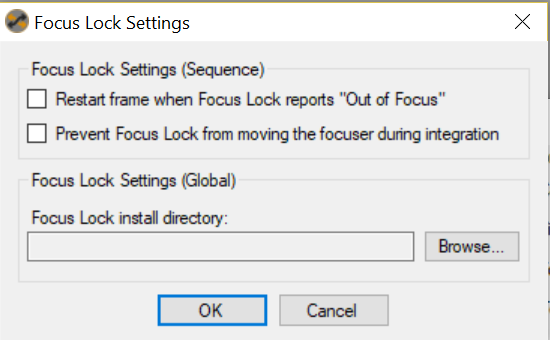 The two checkbox options are sequence options. This means that they must be set for every sequence (or added to your favorite equipment profile).
The path to the FocusLock application only needs to be set one time and it will be present across sequences.
Please let us know if you are using FocusLock!