The last 4.0 beta removed functionality where SGPro would attempt to find the Eagle device by itself (because it didn't work well). In its place, we have added a settings dialog so you can tell SGPro where it is. You can get to it from the control panel's "Switches" Tab: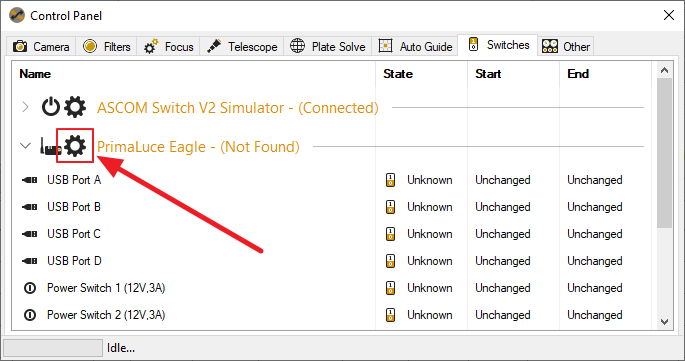 Note: There is no "Connect" button and SGPro will continually auto connect. In parentheses after PrimaLuce Eagle you will see text that reads Not Found or Connected
Eagle settings: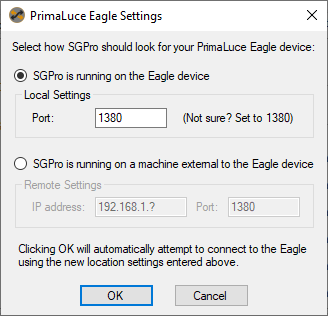 We are going to change the wording on this dialog… it should indicate that you need to:
choose "SGPro is running on the Eagle device" to "SGPro and Eagle Manager are running on the same machine". e.g. SGPro and Eagle Manager both running on the Eagle device - OR - SGPro and the Eagle Manager both running on a remote device (and Eagle Manager is connected to Eagle remotely).
If SGPro and Eagle manager are running on separate machines, choose the bottom option. e.g. Eagle Manager running on Eagle and SGPro running on a remote machine.
Note: I don't think it's possible to change the port location of the Eagle Manager Server (maybe?), but the default is 1380. If you are using the top option with port 1380, you shouldn't need to make any changes.