I am getting a new error message and wondering if anyone has seen this or might have some suggestions. I've been using SGP for years and this is the first time I've encountered this one.
Essentially, I have a 4 panel series of images. Everything runs fine until I try to start the sequence. Specifically:
Solve & Sync works and appears to get the correct coordinates
Auto focus runs and I have good focus when checked with a bhatinov mask
The scope slews to the correct coordinates for any given target I select
However as soon as I start the sequence or run the "Center" routine for a target, I get the following error message: "Auto center failed! Aborting auto center (c:1)…". I've checked the logs but can't make heads or tails of what's in there.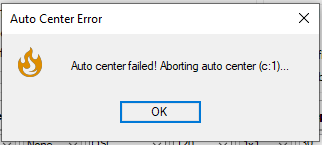 Steps I've taken so far:
Upgraded to latest SGP (may have done this before the problem started but am running the same version on another machine with no issues)
Uninstalled and reinstalled SGP
Completely "reset" Windows, retaining my personal files but wiping out all software and drivers - reinstalled latest ASCOM, hardware drivers, etc.
Equipment specs:
Windows 10 (1909, build 18363.1198)
SGP 3.2.0.613
ASCOM 6.5
Celestron CGEM
ZWO ASI183 (main camera)
QHY5II (guide camera)
Orion ED80T (main scope)
QHY mini guide scope
I'm at a loss to explain as things were running well up until about 2 weeks ago. I had cleared out some old software, but the reset on Windows should have rectified any damage that might have done. Will try tonight with my other machine to rule out any hardware issues, but nothing has changed there since it was last working correctly.
Appreciate any suggestions!
Thanks,
Corey
(Edited to correct information pretaining to manually selecting the "Center" routine.)