Hi
I would very much appreciate any help to try to improve the reliabilty of my autofocus runs. Sometimes they are flawless, bust mostly I end up choosing a low point from the autofocus graph and using that manually with a visual quality check. I have provided a Log at the end of this post.
My other problem which badly affects my abilty to do timed runs is using a timed sequence e.g. I set the sequ. to start at 2 a.m. but the Platesolve process fails, and its odd in that the other night with clear sky, I watched PS (ASTAP) solve the first iteration but fail on the second. I caught that one and just used the first iteration as the target - started PHD2 guiding quickly so as not to lose the target.
Part of the problem (and I think this is significant) is that the platesolve image sometimes looks 'rough', e.g the stars are smudged, example below. What causes this to happen? I have a MESU 200 mount which easily manages 20 minute guided subs. If someone asked me what the problem was I'd probably say 'something jogged the mount' or 'cable snag' , these would explain one off events, but not a persistent problem.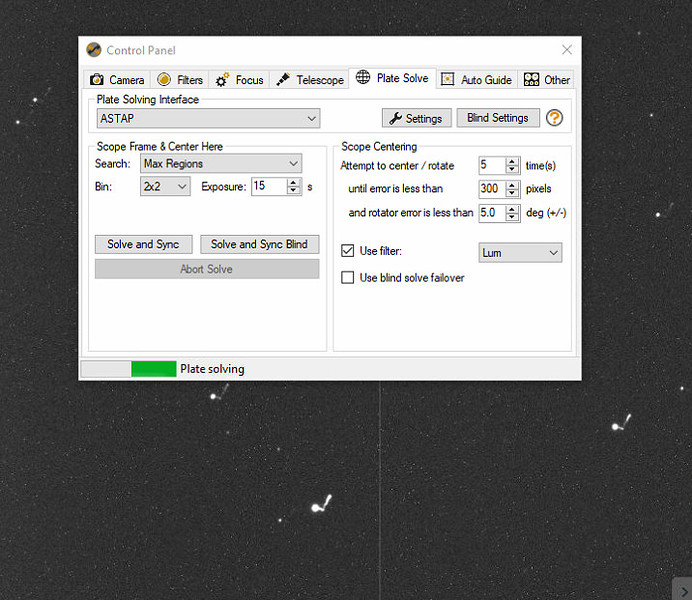 The other problem related to platesolve is that SGP took a platesolve image whilst my dome was still moving - that one didn't solve

and if this is happening that might also explain the variability I'm seeing. I was in the observatory when this happened. Because I have a Sitech II mount controller, I visit that forum too, and recently someone posted that they use SGP and had a platesolve image happen whilst the dome was moving to target.
I'll try to confirm the platesolve whilst mount moving and post back, that one can be checked in daytime.
Any help much appreciated.
Log link
https://drive.google.com/drive/folders/1l7ToQs3WIpfqEdVi3l0j34beEgQl-HLv?usp=sharing
Paul