Since documentation is typically the last thing we do before a release, here is a primer for the beta.
Switches are essentially classified as "gear", but they do not appear with the rest of the gear on the sequencer window. This is really just because there can be dozens of them and we needed a better way to lay them out. As such, you can find them on a new tab in the Control Panel. The same is true of the Equipment Profile Manager.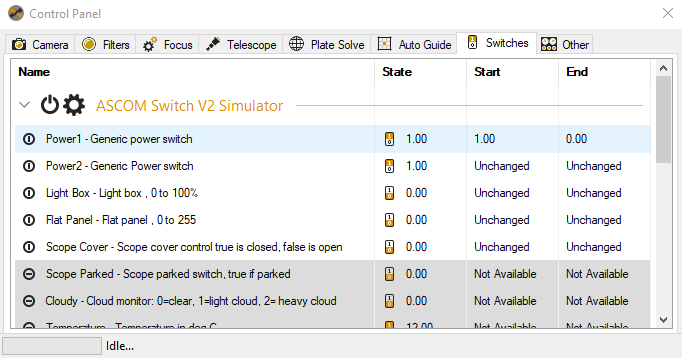 New vocabulary:
Switch: A device with one or more states that has a Switch Device as a parent.
Switch Device: A container device (usually physical) that contains n switches.
The basics:
The Switches Table is a single table that holds all of your Switch Devices. You can click the Switch Device's "down arrow" at the far left of the row to collapse or expand its child switches.
Some switch devices need to be connected before the switches will display state or respond to change. SGPro will continually try to connect to any switch devices of which it is aware. Failing to connect will not produce an error unless the sequence is starting and it needs to alter a switch state. You do not need to manually connect or disconnect, but can if you'd like (by clicking the power button in the Device Switch row).
If a Switch Device has manufacturer settings available, you can access them by clicking on the gear icon in the Device Switch row.
You can interact with the Switches Grid by clicking on the table cells associated with the "State", "Start" or "End" columns.
State: This column holds a switch's current state. You can also alter the current state by clicking on the cell. When you do, a list of options (allowable states) will appear. Select one to change the switch's state.
Start: This column identifies the desired state of switch at sequence start. Click the cell to show a list of allowable states.
End: This column identifies the desired state of switch at sequence end. Click the cell to show a list of allowable states.
Right click the switches table to hide the ASCOM Switch Simulator or PrimaLuce Eagle switch devices
The Equipment Profile Manager follows the same concepts. The only difference is that you can't alter the current state of the switch from the profile manager.
Important: In order to set the state of switches in a profile manager, you must have connected to it at least one time so SGPro can gather the switches and states that are available to you.
Note: Switches with many states have kind of a janky state selector that lists all available states in the same single dropdown menu. We are looking at alternatives for these types of switches.