Hey folks,
Just a quick update on new stuff coming for SGPro. The 4.3 release is starting is pretty close to beta, but there is more to do yet. We're working as quickly as we can to get it out…
A note: These types of posts are purposely made in an area where anyone can reply. We absolutely encourage this and welcome thoughts and feedback. That said, sometimes the "coming soon" posts trigger thoughts like, "that's nice, but what about [this thing that I want]?". That's great and we want to know what that thing is… but if you post it here it will get lost or be forgotten. Stated simply:
Please post things related to these new changes here and for unrelated things, post them in the #sequence-generator:feature-requests topic. Thanks!
What's in 4.3?
New Feature: AutoFlats!
A long requested feature and more. Complete automation of flats as part of a sequence… handles both flat boxes and sky flats. A very detailed write up (documentation) is here: Introducing AutoFlats (coming soon in the 4.3 beta)
New Feature: Custom Horizons!
This release will come in 2 parts:
The first, delivered in 4.3, will focus on definition of custom horizons for your User Profiles, display of horizons on the Planning Assistant (target transit) and, finally warnings produced as a result of how the target interacts with the horizon during your capture session.
The second, likely in 4.4, will integrate the target - horizon interactions into the sequence in two ways: 1.) Using the horizon as default minimums for target start and end. For example, if you specify starting at a target altitude of 25 deg, but the horizon indicates the target will not be visible until 32 deg, the start time will be adjusted automatically (and displayed). Or you may have specified a target end time at 01:30, but the target goes below the horizon at 00:45. In this case, the target may end earlier (see

#2

for the "may" part) than requested and move onto the next target. 2.) Second, allow the sequence to be more resilient when interacting with obstructions defined in the horizon. For example, say that all kinds of failure happen when your target goes behind some trees, but those trees only occupy about 3 degrees of azimuth and when the target clears them, it will still have plenty of good imaging time left before it sets. Instead of failing or going into a recovery mode, SGPro will patiently wait for the all clear on the other side of the trees (and will also display what it is doing and when it will be clear).
For the first part of custom horizons in 4.3, here is a quick video so you can see the editor, target overlay and warning system in action (make sure to click the gear icon and bump up the resolution of the vide so you can read the text):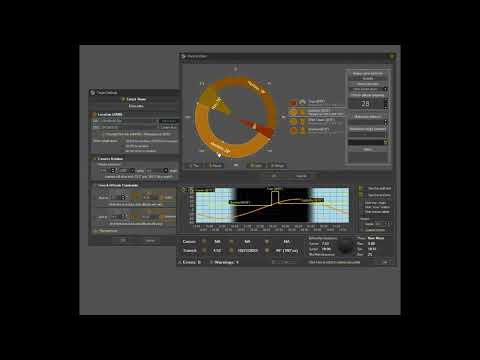 More here:
New Feature: Support for Below the Pole Meridan Flips!
Long overdue and a welcome addition for those living closer to a pole, SGPro will now perform meridian flips when the target crosses below the pole (and will even execute multiple flips per session if you live through 40 days of night).
Lastly, also a fairly popular request:
New Feature: Sync Sequence Progress with Disk!
In an ideal world, everything would be perfect and sequence progress, as indicated in SGPro, would always be in sync with the images stored on disk. In reality, AP can be messy sometimes and maybe you needed to reset progress, or did it accidentally, or maybe one of a dozen other things happened that caused them to diverge. Now, unless you modify the number captured for each event, you will start to see images saved with file names very similar to existing one, but with a suffix like _1, _2, etc. Using this feature will automatically inspect the disk and update the sequence to match. You'll also be able to indicate that you'd like the the new progress sync to run automatically whenever a sequence is started.